Annual Survivors' Banquet
A celebration of life, liberty, and the pursuit of mushrooms!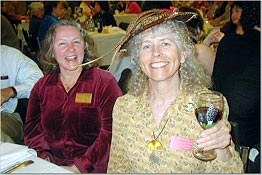 The annual Survivors' Banquet is a time of celebration, honor, and business where we gather together thankful for making it through another season alive! We present the "Golden Mushroom Award" which honors long term service to the club, and we announce the newly elected Officers and Board Members. All this takes place amidst delicious food and drink. We encourage members old and new to attend.
PSMS ANNUAL SURVIVORS' BANQUET

EVENT CANCELLED !!!

NO Banquet this Saturday, Mar 14th
Ultimately, and sadly, we have decided NOT to hold the Banquet this month, due to the Covid-19 risks. People already registered on this list will be moved to the registration list for the rescheduled event which is on June 9th. Those who have paid may receive a refund or can donate their $5 fee to the Ben Woo Scholarship Fund. Please contact outreach@psms.org - if you chose to do this instead of remaining on the list for June 9th.