2022 PSMS Annual Wild Mushroom Show
Our Wild Mushroom Show is one of the largest and most complete exhibits of mushrooms in the United States. Over 200 varieties of wild mushrooms will be displayed, identified, and classified as edible, poisonous, or valueless as food.
Visitors are welcome to bring in mushrooms from your garden or walks for our experts to identify. Be sure to collect the entire mushroom, including underground parts.
Exhibits will include something for all of the senses: A feel and smell display can be experienced after the slide show lecture and finished off by a delicious tasting of mushrooms prepared by some of Seattle's finest chefs. There are photography displays as well as a great selection of items for sale like mushroom field guides, cookbooks, t-shirts, and scientific materials for the serious mycologist. Visitors can discover facts about PSMS and obtain information about classes, field trips and other opportunities. Thank you for your interest and for supporting PSMS!
Location and Times
Shoreline Community College
16101 Greenwood Avenue North
Shoreline, WA 98133
October 22 (12-6pm) October 23 (10am-5pm)
Admission fees
Adults $10, Students $5 with ID card, and children under 12 are free.
PSMS Members not volunteering for the show will be able to have entry for the show for $5.00.
PSMS Members who are volunteering for the show are able to enter for free.
Mask-wearing is strongly recommended.
Click here to download show info
Speaker Schedule
Saturday October 22, 2022
| Time | Speaker | Title of Lecture |
| --- | --- | --- |
| 1:00 - 2:00 | Shannon Adams | Saucepan to Science: Taking Your Mushroom Hobby to the Next Level |
| 2:15 - 3:15 | Christian Schwarz | A Guided Walk in the Mycorrhizal Bewilderness |
| 3:30 - 4:30 | Alana McGee | Truffle Hunting: Canine & Culinary Edition, a focus More on Food and What to Do with Them |
| 4:45 - 5:45 | Daniel Winkler | Fruits of the Forest - Fourteen Fantastic Edible Mushrooms of the Pacific Northwest |
Sunday October 23, 2022
| Time | Speaker | Title of Lecture |
| --- | --- | --- |
| 11:00 - 12:00 | Dr. Steve Trudell | Why Mushrooms Matter |
| 12:15 - 1:15 | Christian Schwarz | Mushroom Bioregions of The United States |
| 1:30 - 2:30 | Daniel Winkler | Fruits of the Forest - Overlooked and Unusual Edible Mushrooms of the Pacific Northwest |
| 2:45 - 3:45 | Paul Hill | Spring Mushrooms of the Pacific Northwest, an Introduction to the Mushrooms You Probably Won't See at Fall Shows |
Speaker Bios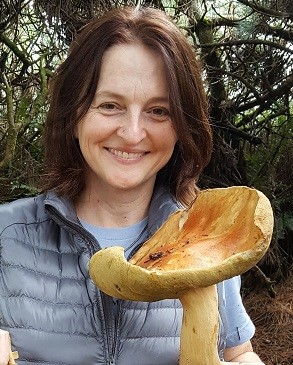 Shannon Adams — At work, Shannon leads a team of Ipsos researchers focused on early stage innovation in the tech sector. She is also a citizen scientist focused on Cortinarius in WA State, USA. With assistance from the Puget Sound Mycology Society's Ben Woo grant and the Stuntz Foundation, she will collect and sequence 400 collections throughout the Pacific Northwest Cascade region, from Northern CA to Alaska. Her goal is to contribute to greater understanding of Cortinarius taxonomy, field identification and distribution, through collaboration with experts and amateurs in the field. As an Australian citizen, South African by birth and American by habit, she is interested in the global distribution of species of Cortinarius and has gathered collections in NE USA and New Zealand.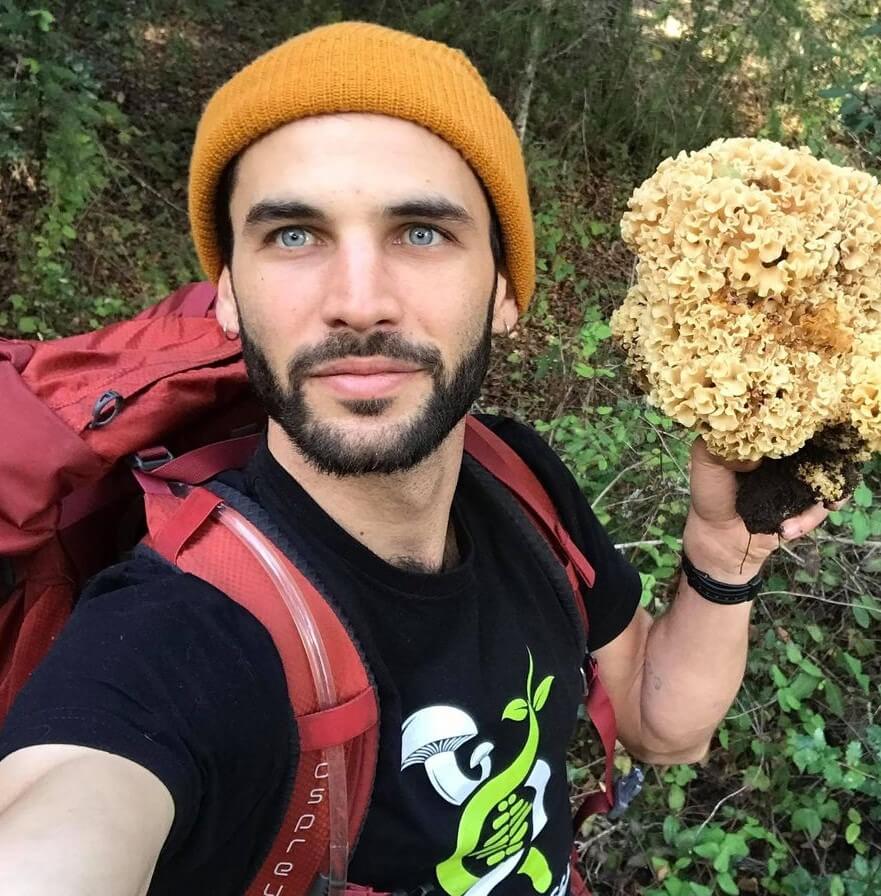 Christian Schwarz studied Ecology and Evolution at UC Santa Cruz, where his interest in the world of fungi became irrevocable — their seemingly endless forms (from the grotesque to the bizarre to the sublime) feed his curiosity. Christian now teaches Natural History of Fungi and Community Science through the Norris Center at UCSC. He is co-author of Mushrooms of the Redwood Coast, and now spends much of his time studying macrofungi across the western United States, and has served on the IUCN Red List Working Group for North American Fungi. He is passionate about biodiversity in general, and especially the philosophy and practice of community science. In his first talk, A Guided Walk in the Mycorrhizal Bewilderness, he explores the mutualistic relationship between trees and fungi that has been well-known for over a century, and metaphors emerging from this interaction have become increasingly common in popular culture. But we have learned many nuances in recent days — he'll cover some of the frontiers of research involving the intricacies and nuts-and-bolts mechanisms of this famous symbiosis. In his second presentation, Mushroom Bioregions of The United States, he will introduce you to biogeography, one of the most fascinating topics in all of natural history. The basic question is simple: Where do organisms live? But every subsequent question adds a new layer of complexity: Do they live there all the time? Why do they live there? Are there patterns that emerge when we look at groups of organisms? Are there strange discrepancies that don't fit the pattern? How small of an area can we map, and how finely? In this talk, we'll explore broad bioregions of the United States from the perspective of mushrooms (which sometimes align with bioregions of plants and animals... but not always!). From the chilly and damp temperate rainforests of the Pacific Northwest to the subtropical hardwood hammocks of Florida; from the arid interior deserts to the alpine crest of the Rocky Mountains, we'll take a tour of some of the country's distinct macrofungal communities and ask ourselves questions about time, space, and evolution.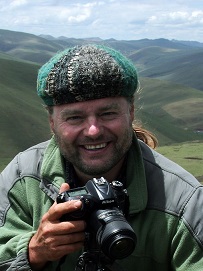 Daniel Winkler is the author of field guides to Edible Mushrooms of the Pacific Northwest and California, Amazon Mushrooms and a brand new Field Guide to Medicinal Mushrooms of North America with Robert Rogers. He grew up collecting and eating wild mushrooms in the Alps and has been foraging for over 20 years in the PNW and beyond, sharing his enthusiasm as a mushroom educator and guide and as PSMS vice-president. In his presentations he is combining his stunning photography with an often funny blend of entertaining stories and scientific information he likes to refer to as "edutainment". Having been in love with mushrooms since early childhood Daniel managed to bend his career as an ecologist and geographer focused on High Asia towards researching rural Tibet's enormous fungal economy. His Cordyceps research has been featured in The Economist, National Geographic, New York Times, Washington Post, NPR, BBC World Service etc. In the last decade Daniel started exploring neotropical fungi. With his travel agency MushRoaming, Daniel is organizing mushroom focused eco-adventures to Tibet, Bhutan, China, the Amazon, Colombia, the Austrian Alps and the Pacific Northwest since 2007 [www.mushroaming.com]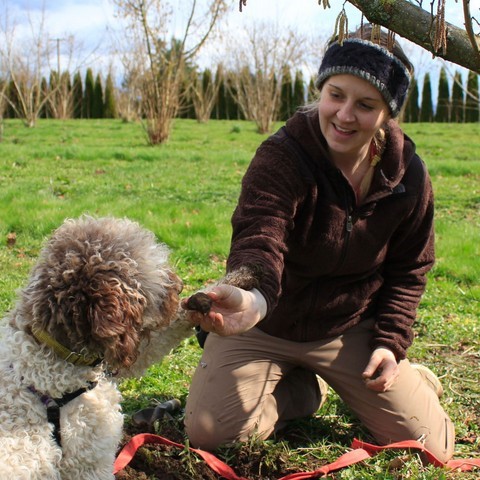 Alana McGee, CPDT-KA, has over ten years of experience training and educating humans and canines with reward-based systems about early socialization, development during critical periods, and canine scent detection, specifically regarding truffles. She is one of only a handful of proven professional truffle dog handlers in all of North America who harvests native truffles as well as works on European-style plantations or truffieres. In 2013 Alana and her truffle dogs found the first ever cultivated Perigord truffles in Canada. Alana is one of the driving forces behind the emergence of using dogs to harvest and locate truffles in the Pacific Northwest and for use in scientific discovery in other parts of North America as well as helping to establish the culinary marketplace and build the infrastructure for Pacific Northwest truffles, on a global scale, and has developed a training curriculum specifically designed for truffle dog teams working on commercial orchards. For those of you who attended Alana's presentation last year, this year it will be different, with a focus more on food and what to do with them.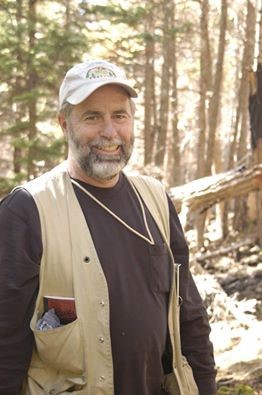 Steve Trudell, Ph.D. — Steve is a forest ecologist and itinerant educator who has been hunting, photographing, and learning about mushrooms for over 35 years. He is a life member of NAMA, Chair of NAMA's Literature Committee, member of the Education, Photography, and Website committees, and previously served as Vice President. Author of, and photographer for Mushrooms of the Pacific Northwest (with Joe Ammirati), Tricholomas of North America: A Mushroom Field Guide (with Alan Bessette, Arleen Bessette, and Bill Roody), and Mushrooms of Alaska's National Forests (with Kate Mohatt and Karen Dittman), he has taught mycology, botany, and biology courses at the University of Washington, The Evergreen State College, and Bastyr University, as well as workshops at many festivals, NAMA forays, and local mushroom club forays. His particular interest is in understanding why there is such a tremendous diversity of mushroom-fungi and the roles that they play in forest carbon and nutrient cycling.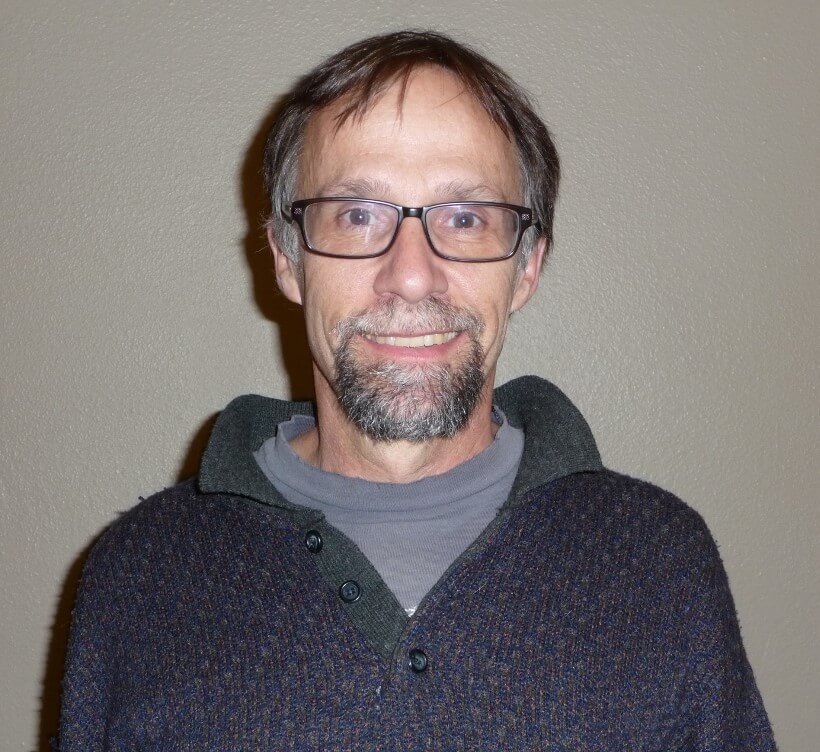 Paul Hill — When Paul moved from Salt Lake City to Seattle he was soon struck by all things that grew in the wet climate in the PNW. He soon became fascinated by the fungal kingdom and soon he was attending PSMS meetings and going on field trips. He is an avid photographer and has now taken thousands of photos of mushrooms, sometimes slowing down family hikes to a snail's pace. He currently has over 1,400 observations on iNaturalist. Ever since joining PSMS, he has volunteered with PSMS helping at shows, as a PSMS board of trustees, a field trip guide, teaching classes, serving coffee and whatever else comes up in the club. Now retired, he is hoping to photograph even more mushrooms in more places and share his love of mushrooms with even more people. Very few mushroom species fruit in both seasons and some are therefore underrepresented at fall shows. In this presentation Paul will review and show you some species that he's found in the earlier part of the year.