Annual Survivors' Banquet
A celebration of life, liberty, and the pursuit of mushrooms!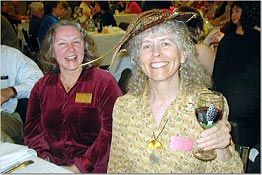 The annual Survivors' Banquet is a time of celebration, honor, and business where we gather together thankful for making it through another season alive! We present the "Golden Mushroom Award" which honors long term service to the club, and we convene the annual member's meeting to announce the newly elected Officers and Board Members. All this takes place amidst delicious food and drink. We encourage members old and new to attend.
2014 PSMS Survivors' Banquet & Annual Business Meeting
Sunday, March 23 
Kaspar's Special Events and Catering
19 W. Harrison
Seattle, WA 98119

We will hold our 2014 Survivors' Banquet and Annual Business Meeting on Sunday March 23, 2014 at Kaspar's Special Events and Catering at 19 W. Harrison in Seattle, WA 98119 from 5:30pm - 9:30pm. This banquet is for members only, but members may bring a single guest to accompany them to the dinner if their partner is not a member or if their partner who is a member is not available. 
This will be a buffet style meal including alternate choices for vegetarian and gluten free diets. 
This is a preliminary menu but subject to some changes (it is dependent on quantity and type of donations of mushrooms: 

*Kaspars Specialty Menu
Chanterelle Mushroom Bisque with Rosemary Garlic Croutons 
Baby Spinach and Arugula Salad with Fuji Apples, Shiitake Mushroom Chips and Rice Wine Vinegar 
Roasted Winter Vegetable Platter with Balsamic Syrup 
Asian Mushroom, Noodle, and Six Vegetable Salad with Miso Dressing 
Baked Brie in Crust with Mushroom Relish and Northwest Apples and Pears 
10 Spice Rubbed Pork Loin with Morel Brandy Sauce (we will have a non-pork entrée instead - still in planning) 
Barley Boletus Mushroom Risotto with Vegetable Confetti 
Northern Italian Chicken and Wild Mushroom Lasagna with Roasted Garlic and Crispy Sage 
House made Breads and Spreads
Starbucks Coffee and Tea
Chef's Selection Petite Desserts 
Chocolate Caramel Sea Salt Tartlet
Light Lemon Yogurt Mousse with Meringue Mushrooms 
Roasted Banana Rum Sorbet with Coconut Granola Crumble
Members will need to register for this event with the link in the email with the invitation to the banquet that was sent to your email address on record with PSMS.
Seating is limited for this event. Members must be registered to attend this event.