Annual Survivors' Banquet
A celebration of life, liberty, and the pursuit of mushrooms!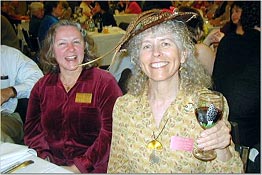 The annual Survivors' Banquet is a time of celebration, honor, and business where we gather together thankful for making it through another season alive! We present the "Golden Mushroom Award" which honors long term service to the club, and we convene the annual member's meeting to announce the newly elected Officers and Board Members. All this takes place amidst delicious food and drink. We encourage members old and new to attend.
2015 PSMS Survivors' Banquet & Annual Business Meeting

Banchetto Italiano!  

Saturday March 7th – 7:30pm (Doors open at 6:30pm) at the Center for urban Horticulture

Our theme for the 2015 Survivors' Banquet and yearly business meeting is "Banchetto Italiano!" Our last Italian themed banquet was in 2005…and was a big hit! We would encourage you to bring potluck dishes in line with Italian Cuisine. The cost is $5/person, and the banquet is members only. If your significant other or dinner partner is not a member you can still invite them, but the event is closed to the public because we will be having a banquet permit for alcohol at the event. You may bring your favorite wine or beer! No hard liquor!
Remember this banquet on Saturday replaces our general meeting for March.
Speaker for the Survivor's Banquet will be James "Animal" Nowak
Topic: A Taste Of New World Truffles. A short presentation on Northwest edible truffles will be presented. Habitat and collecting techniques and will be covered and will be accompanied by truffle tasting for both your edification and delight.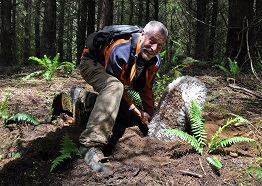 Bio: James Nowak grew up in the Seattle area foraging mushrooms on family outings which instilled in him a love of everything mushroom. He perused a career in glass blowing while developing a business in mushroom cultivation and guided forays (http://www.terra-fleurs.com/). He also has a deep interest in truffles, has planted an orchard to grow truffles and has trained his own dog to find truffles. Currently James sits on the board of directors for PSMS. and continues to be active in the mushroom society.
In addition to the presentation on Truffling, we will presentation of new officers for 2015-2017, announcement of the 2015 Golden Mushroom Award Winner and have a silent auction. Proceeds from the silent auction will benefit our Ben Woo Scholarship program. This promises to be a fun evening with friends and family, so come join us - Unitevi a noi!
Members may click here to register for this event on our website or with the link in the invitation to the banquet that was sent to your email address on record with PSMS. Seating is limited for this event. Members must be registered to attend this event.