Annual Survivors' Banquet
A celebration of life, liberty, and the pursuit of mushrooms!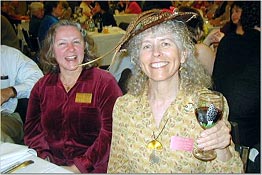 The annual Survivors' Banquet is a time of celebration, honor, and business where we gather together thankful for making it through another season alive! We present the "Golden Mushroom Award" which honors long term service to the club, and we convene the annual member's meeting to announce the newly elected Officers and Board Members. All this takes place amidst delicious food and drink. We encourage members old and new to attend.
2017 PSMS ANNUAL BUSINESS MEETING & SURVIVORS' BANQUET

Saturday, March 11, 7:30 pm (doors open at 6:30 pm for the social hour), at the Center for Urban Horticulture.
This replaces our March general membership meeting.
It's time again to gather and congratulate each other for making it through another season of finding, cooking, and eating mushrooms. Sign-up online on the PSMS.org web site. Seating is limited, so register early to guarantee your place. You must be pre-registered to attend. The cost is $5/person to cover incidentals. As in previous years, the event will be a potluck dinner for PSMS members only, but if your significant other or dinner partner is not a member, you can still include them. We will have a banquet permit, so bring your favorite wine or beer, but no hard liquor, please!
Our banquet theme this year is "A Late Winter's Pick-Nic." For this potluck dinner we encourage you to bring your best picnic-worthy dishes featuring mushrooms, wild or cultivated, and come dressed in your best field-trip attire. Please label your contributions with the ingredients and species of mushrooms used, if any. We will have a short presentation (or two), introduce the newly elected board members and officers for 2017–2019, announce the winner of the 2017 Patrice Benson Golden Mushroom Award for outstanding service to our society, and hand out a few door prizes. This promises to be a fun evening with friends and family, so come join us!
Raffle tickets for an original watercolor by Russian artist Alexander (Sasha) Viazmensky will also be available for purchase. Questions? Please write: outreach@psms.org.
PSMS Member Registration will begin on February 3rd on the Event Registration page: https://mms.psms.org/members/evr/reg_event.php?orgcode=PSMS&evid=16040873