Annual Wild Mushroom Show
Sponsored by the Puget Sound Mycological Society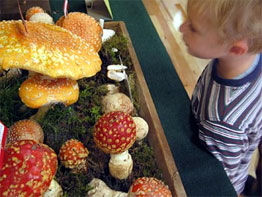 Our Wild Mushroom Show is one of the largest and most complete exhibits of mushrooms in the United States. Over 200 varieties of wild mushrooms will be displayed, identified, and classified as edible, poisonous, or valueless as food.
Visitors are welcome to bring in mushrooms from your garden or walks for our experts to identify. Be sure to collect the entire mushroom, including underground parts.
Exhibits will include something for all of the senses: A feel and smell display can be experienced after the slide show lecture and finished off by a delicious tasting of mushrooms prepared by some of Seattle's finest chefs. There are photography displays as well as a great selection of items for sale like mushroom field guides, cookbooks, t-shirts, and scientific materials for the serious mycologist. Visitors can discover facts about PSMS and obtain information about classes, field trips and other opportunities.
2016 Annual Wild Mushroom Show
Dates
Saturday, October 29th and Sunday, 30th, 2016
Saturday, Oct 29th: noon - 7PM
Sunday, Oct 30th: 10AM - 5PM
Location
Bellevue College Cafeteria at 3000 Landerholm Circle SE, Bellevue, WA 98007.
Abundant free parking and all of the exhibit will be under one roof on one level! Bellevue College is close to and is easily accessible from I-90 without a toll. It is also well serviced by Metro for people who prefer to ride the bus.
Admission fees
Adults: $10
Full time students (with IDs): $5
Children 12 and under: free
We are selling tickets in advance. Unsold tickets will be sold at the door on the days of the show. Please purchase your tickets (No refunds) HERE.
PHOTOGRAPHY EXHIBITION
Topic: Original photographs by the submitting artist containing real mushrooms. Not photographs of artwork representing mushrooms.
Eligibility: Anyone can enter.
Size, Format, & Framing: The size is limited to the complete work including any mat and frame not more than 30" on it maximum side. The works are going to be displayed sitting on rails leaning against a board; therefore, no hanging hardware is required.
Electronic Submission: We accept submissions electronically. These will be cycled through on a large monitor. Please add title (species name if you know it) and artist name on the photograph (Species and Artist information need not be large). Please make the text large enough to be read from several feet away. The monitor will be at eye level to the viewer only a few feet away (not mounted high on a wall or displayed in front of an audience.)
Entry List: A List of Artwork you will be submitting must be submitted electronically to photography@psms.org by the end-of-day Tuesday, October 25th, 2016. This allows us to plan space for all submitted artwork. Please submit your list as early as you can.
Delivery with Signed Forms: You must get the artwork and a signed Loan Agreement to PSMS either:
1. On Friday, October 28th during setup for the show and exhibition
2. Before the show opens at Noon on Saturday October 29th.
3. By mail to PSMS at CUH, to arrive no later than Monday October 24th. If you cannot pick up the artwork at the close of the show, please provide a pre-paid return shipping label.
4. Electronically submitted to photography@psms.org. If you think you photograph works better not shown on the full screen, please add framing space around it (black is usually a good choice).
The forms must be signed or emails exchanged as received by someone from the photography exhibition to receive your artwork. Setting up for the whole mushroom show takes a lot of work, so please try to make the delivery, installation, and pickup as hassle-free as possible.
Awards: For 2016 the photos will be judged by a group of judges chosen by the Photo Exhibition coordinator. For 2016 we will give awards in three categories
(1) Artistic: the quality, merit, beauty, and appeal of the photograph.
(2) Human interest: people picking, or otherwise working with mushrooms. Note: Photo should still include mushrooms.
(3) Scientific interest: Photos of particular mycological interest.
Small Cash Awards will be given to the winners.
Pickup: You may retrieve your pictures on Sunday October 30th after 5 PM. Note: Insurance for artwork is the responsibility of the artist, not PSMS. PSMS does not carry insurance for any artwork at the show.
E-mail photography@psms.org if you have any questions.