Annual Wild Mushroom Show
Sponsored by the Puget Sound Mycological Society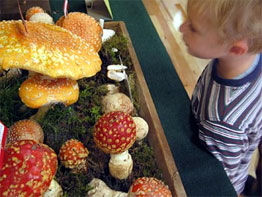 Our Wild Mushroom Show is one of the largest and most complete exhibits of mushrooms in the United States. Over 200 varieties of wild mushrooms will be displayed, identified, and classified as edible, poisonous, or valueless as food.
Visitors are welcome to bring in mushrooms from your garden or walks for our experts to identify. Be sure to collect the entire mushroom, including underground parts.
Exhibits will include something for all of the senses: A feel and smell display can be experienced after the slide show lecture and finished off by a delicious tasting of mushrooms prepared by some of Seattle's finest chefs. There are photography displays as well as a great selection of items for sale like mushroom field guides, cookbooks, t-shirts, and scientific materials for the serious mycologist. Visitors can discover facts about PSMS and obtain information about classes, field trips and other opportunities.
Dates & Location
"The 2014 Puget Sound Mycological Society Wild Mushroom Show will be slightly different than in past years. It will be held on the weekend of October 25 & 26th. However on Saturday, the 25th, it is open to PSMS MEMBERS ONLY. On October 26th, it is open to the public. The show will be at The Mountaineers Building at 7700 Sand Point Way NE, Seattle, WA 98115 in Magnuson park in Seattle. Please check back on our website closer to October for hours for each day of the show.
Lectures - Sunday October 26
11:00 - 12:30  Noah Siegel - Mushrooms of the Pacific Northwest - from an Easterner's Perspective
12:30 - 2:00  Danny Miller - Mushroom Mythbusters; What's Fact and What's Fiction in the World of Mushrooms
2:00 - 3:30  Alissa Allen - Exploring the World of Mushroom and Lichen Dyes
3:30 - 5:00  Daniel Winkler - Best Edible Mushrooms of the Pacific Northwest
Click here to register for this event.
If you wish to have mushrooms identified, here is the link to our  free ID clinic during the mushroom season: http://www.psms.org/id-clinics.php