Annual Wild Mushroom Show
Sponsored by the Puget Sound Mycological Society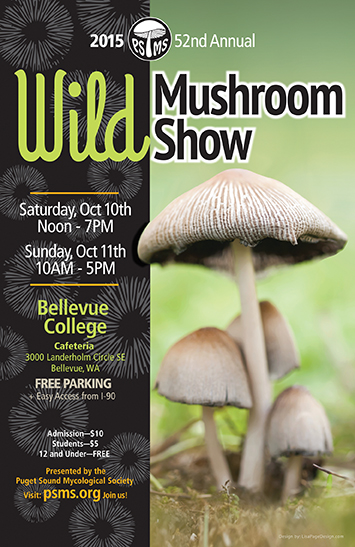 Our Wild Mushroom Show is one of the largest and most complete exhibits of mushrooms in the United States. Over 200 varieties of wild mushrooms will be displayed, identified, and classified as edible, poisonous, or valueless as food.
Visitors are welcome to bring in mushrooms from your garden or walks for our experts to identify. Be sure to collect the entire mushroom, including underground parts.
Exhibits will include something for all of the senses: A feel and smell display can be experienced after the slide show lecture and finished off by a delicious tasting of mushrooms prepared by some of Seattle's finest chefs. There are photography displays as well as a great selection of items for sale like mushroom field guides, cookbooks, t-shirts, and scientific materials for the serious mycologist. Visitors can discover facts about PSMS and obtain information about classes, field trips and other opportunities.
Dates & Location
Our 2015 Annual Fall Wild Mushroom Exhibit will be on October 10th and 11th. This year the show will be held in the cafeteria at Bellevue College, 3000 Landerholm Circle, Bellevue, WA 98007. This location affords a larger venue for our event, abundant free parking, and all of the exhibit will be under one roof on one level! Bellevue College is close to and is easily accessible from I-90 and does not require a toll going over the I-90 Bridge from Seattle. It is also well serviced by Metro for people who prefer to ride the bus.
The exhibit will be open to the public on:
Saturday>, Oct 10th: noon - 7PM
Sunday>, Oct 11th: 10AM - 5PM.
Admission fees for this event are:
Adults: $10
Full time students (with IDs): $5
Children 12 and under: free.
We are selling tickets in advance. Unsold tickets will be sold at the door on the days of the show. Please purchase your tickets (No refunds) HERE.
SOUP VOLUNTEERS NEEDED
The 2015 Annual Mushroom Show will be in a new venue at Bellevue College, and again this year the Mycophagy Committee will feature Soup Sales. We are excited about the opportunity to produce our soups in a commercial kitchen. We will be loaned a small portion of a shared space that must be ready to serve their student population the following Monday morning. To that end, we are going to need many volunteer hands to help us with the sales and help maintain the space. We will need people to help us with the following: prep (cutting and measuring ingredients), sales and cleanup (during and after the show).
Ideally, we would like people who can devote a 2-4 hour shift on one or both days of the show. Please be flexible about what you are willing to do, as experience has shown us that immediate needs can be unpredictable. We especially would like a couple of people who can devote some time for the end of show cleanup (we always seem to fall short here). PSMS members who have some time and interest to devote to the success of soup sales at the Mushroom Show please sign up online here: http://mms.psms.org/members/evr/regmenu.php?orgcode=PSMS or at our general meeting. You will be able to select the times that you are available to help during the sign-up. You can also contact Jo Ann Henderson, Joyce Budisana, or Kim Traverse (phone numbers are in the roster) personally. We will need to know your contact information and the days and times you can be available. Thank you!
PHOTOGRAPHY EXHIBITION
Topic: Original photographs by the submitting artist containing real mushrooms. Not photographs of artwork representing mushrooms.
Eligibility: Anyone can enter.
Size, Format, & Framing: The size is limited to the complete work including any mat and frame not more than 30" on it maximum side. The works are going to be displayed sitting on rails leaning against a board; therefore, no hanging hardware is required.
Entry List: A List of Artwork you will be submitting must be submitted electronically to photography@psms.org by the end-of-day Tuesday, October 6th, 2015. This allows us to plan space for all submitted artwork. Please submit your list as early as you can.
Delivery with Signed Forms: You must get the artwork and a signed Loan Agreement to PSMS either:
1. At the general members meeting on Tuesday October 6th, 4 days before the show
2. On Friday, October 9th during setup for the show and exhibition
3. Before the show opens at Noon on October 10th.
4. By mail to PSMS at CUH, to arrive no later than Tuesday October 6th. If you cannot pick up the artwork at the close of the show, please provide a pre-paid return shipping label.
The forms must be signed as received by someone from the photography exhibition to receive your artwork. Setting up for the whole mushroom show takes a lot of work, so please try to make the delivery, installation, and pickup as hassle-free as possible.
Awards: For 2015 we'll be giving out "people's-choice awards", voting will take place during the photo exhibition.
Pickup: You may retrieve your pictures on Sunday October 10th after 5 PM. Note: Insurance for artwork is the responsibility of the artist, not PSMS. PSMS does not carry insurance for any artwork at the show.
E-mail photography@psms.org if you have any questions.