Annual Wild Mushroom Show
Sponsored by the Puget Sound Mycological Society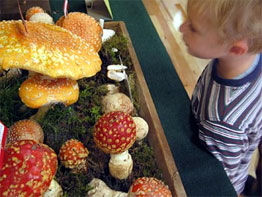 Our Wild Mushroom Show is one of the largest and most complete exhibits of mushrooms in the United States. Over 200 varieties of wild mushrooms will be displayed, identified, and classified as edible, poisonous, or valueless as food.
Visitors are welcome to bring in mushrooms from your garden or walks for our experts to identify. Be sure to collect the entire mushroom, including underground parts.
Exhibits will include something for all of the senses: A feel and smell display can be experienced after the slide show lecture and finished off by a delicious tasting of mushrooms prepared by some of Seattle's finest chefs. There are photography displays as well as a great selection of items for sale like mushroom field guides, cookbooks, t-shirts, and scientific materials for the serious mycologist. Visitors can discover facts about PSMS and obtain information about classes, field trips and other opportunities.
Dates and Location
2017 Annual Wild Mushroom Show
Dates
Saturday, October 21st and Sunday, 22nd, 2017
Saturday, Oct 21st: noon - 6PM
Sunday, Oct 22nd: 10AM - 5PM
Location
Bellevue College Cafeteria at 3000 Landerholm Circle SE, Bellevue, WA 98007. Bellevue Campus Map
Abundant free parking and all of the exhibit will be under one roof on one level! Bellevue College is close to and is easily accessible from I-90 without a toll. It is also well serviced by Metro for people who prefer to ride the bus.
Admission fees
Adults: $10
Full time students (with IDs): $5
Children 12 and under: free
Cultivation - assemble your own oyster mushroom kit and watch it grow!
Touch, Feel, Smell Table - examine different mushrooms and exercise your senses.
Tray tours - experts will lead you through different groups of mushrooms.
Lichen table - learn what they are
Cooking/Tasting - discover how tasty those wild mushrooms can be.
Mushroom identification - bring in your mushrooms. See what species you found.
Photo contest - see how amateurs and experts photograph mushrooms
Arts & Crafts/Vendors - find a gift for yourself, friends, and family.