2021 PSMS Annual Wild Mushroom Show
Our 2021 Annual PSMS Wild Mushroom show has concluded. For more information about our show next year, please consult this page at the end of summer in 2022. We thank you for your interest and for supporting PSMS!
Location
North Seattle College
New Cafeteria
9600 College Way N, Seattle, WA 98103
Admission fees
ALL attendees must be masked and provide proof of vaccination
Registration & Purchase Tickets
Speaker Schedule
Saturday October 23, 2021
| Time | Speaker | Title of Lecture |
| --- | --- | --- |
| 1:00 – 2:00 | Daniel Winkler | Edible and Medicinal Mushrooms of the Pacific Northwest |
| 2:15 – 3:15 | Dr. Steve Trudell | Why Mushrooms Matter |
| 3:30 – 4:30 | Shannon Adams | From Saucepan to Science! Take the Next Step on your Fungal Adventure |
| 4:45 – 5:45 | Dr. Britt Bunyard | How to Know the Edible, Beautiful and Deadly Amanita Mushrooms |
Sunday October 24, 2021
| Time | Speaker | Title of Lecture |
| --- | --- | --- |
| 11:00 – 12:00 | Noah Siegel | Exploring the Unknown: Cryptic Mushroom Diversity in your Back Yard. |
| 12:15 – 1:15 | Danny Miller | The Strange, Wondrous and Easier to Identify Non-Gilled Mushrooms |
| 1:30 – 2:30 | Daniel Winkler | Kings, Queens, Jacks and Beyond: Boletes of the Pacific Northwest |
| 2:45 – 3:45 | Alana McGee | Truffle Hunting in the Northwest, a Canine And Culinary Adventure |
Speaker Bios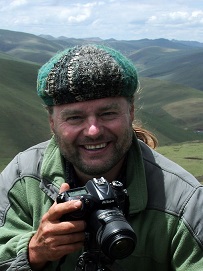 Daniel Winkler is the author of field guides to Edible Mushrooms of the Pacific Northwest and California, Amazon Mushrooms and brand a new "Field guide to Medicinal Mushrooms of North America with Robert Rogers". He grew up collecting and eating wild mushrooms in the Alps and has been foraging for over 20 years in the PNW and beyond, sharing his enthusiasm as a mushroom educator and guide and as PSMS vice-president. In his presentations he is combining his stunning photography with an often funny blend of entertaining stories and scientific information; he likes to refer to as "edutainment". Having been in love with mushrooms since early childhood Daniel managed to bend his career as an ecologist and geographer focused on High Asia towards researching rural Tibet's enormous fungal economy. His Cordyceps research has been featured in The Economist, National Geographic, New York Times, Washington Post, NPR, BBC World Service etc. In the last decade Daniel started exploring neotropical fungi. With his travel agency MushRoaming, Daniel is organizing mushroom focused eco-adventures to Tibet, Bhutan, China, the Amazon, Colombia, the Austrian Alps and the Pacific Northwest since 2007 www.mushroaming.com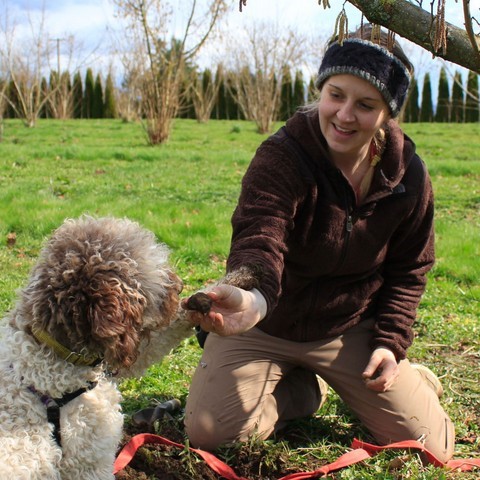 Alana McGee, CPDT-KA, has over ten years of experience training and educating humans and canines with reward-based systems about early socialization, development during critical periods, and canine scent detection, specifically regarding truffles. She is one of only a handful of proven professional truffle dog handlers in all of North America who harvests native truffles as well as works on European-style plantations or truffieres.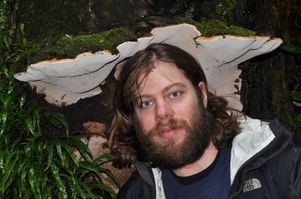 Noah Siegel's field mycology skills are extensive – he has spent over two decades seeking, photographing, identifying, and furthering his knowledge about all aspects of macrofungi. He has hunted for mushrooms throughout the United States and Canada, as well as on multiple expeditions to New Zealand and Australia. He is one of the premier mushroom photographers in the nation, having won numerous awards from the North American Mycological Association (NAMA) photography contest. His technique and attention to detail are unrivaled, arising from a philosophy of maximizing utility for identification purposes while maintaining a high degree of aesthetic appeal. His photographs have appeared on the covers and have been featured in articles of multiple issues of FUNGI Magazine and Mushroom the Journal, the primary mushroom enthusiast magazines in the United States, numerous mushroom books, as well as many club publications. He just finished, along with Christian Schwarz, Mushrooms of the Redwood Coast, a comprehensive guide for the northern California coast. Noah travels and lectures extensively across America, following the mushrooms from coast to coast, and everywhere in between.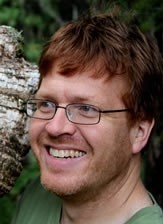 Danny Miller first got interested in mushrooms in 2007 after seeing strange colorful creatures in the forest all the time while hiking and skiing off trail, and finally decided he had to find out what they were. The more he learned, the more interesting they seemed, and it just hasn't stopped. Danny is the Education Chair for the Puget Sound Mycological Society in Seattle, helping to design and teach the curriculum for the club's mycology classes. He is also the club Librarian, ID Committee coordinator and emergency poisoning point person for King County Washington Poison Control. Danny also belongs to the PNW Key Council, a group of amateur and professional mycologists and is a co-author of MatchMaker with Ian Gibson, the free PNW mushroom ID program for the PC and MAC. As a true citizen-scientist he has a big interest in taxonomy and figuring out where all of the mushrooms fit into the fungal tree of life.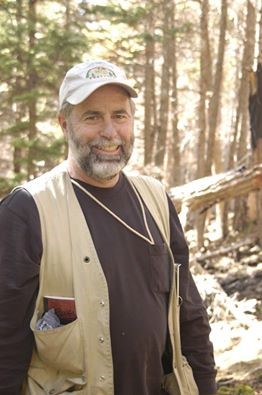 Steve Trudell PSMS's scientific adviser, Steve Trudell, Ph.D. , is a forest ecologist and itinerant educator who has been hunting, photographing, and learning about mushrooms for over 40 years. Principal author of Mushrooms of the Pacific Northwest (with Joseph Ammirati Ph.D) and Tricholomas of North America: A Mushroom Field Guide, he has taught mycology, botany, and biology courses at the University of Washington, The Evergreen State College, and Bastyr University, as well as classes and workshops for PSMS and at many NAMA and local mushroom club forays. His particular interest is in understanding why there is such a tremendous diversity of mushroom-fungi and the roles that they play in forest carbon and nutrient cycling.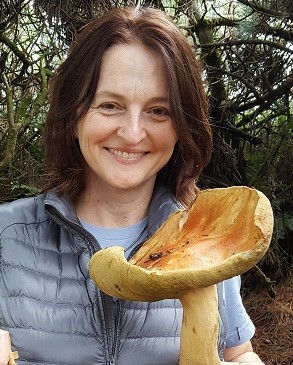 Shannon Adams From Saucepan to Science! Take the next step on your fungal adventure. New developments in citizen science make it easier than ever to make a lasting contribution to knowledge of our fungi. Shannon will share her journey from learning to forage to an interest in taxonomy, steps which led her to describe a new mushroom species. Join her to find new ways to enjoy your mushroom hobby whether it is taking a few photographs to becoming the world expert in the mushrooms in your own backyard.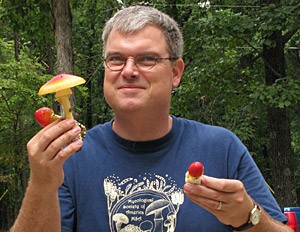 Britt Bunyard Britt Bunyard, PhD, is the founder, Publisher, and Editor-in-Chief of the mycology journal Fungi. Britt has worked academically as a mycologist his entire career, teaching a number of university courses and writing scientifically for many research journals and popular science magazines. He has served as an editor for mycological and entomological research journals, and mushroom guide books. Britt serves as Executive Director of the Telluride Mushroom Festival. He has authored several books, including Amanitas of North America (2020; The FUNGI Press), The Beginner's Guide to Mushrooms (2021; Quarry Books), Mushrooms and Macrofungi of Ohio and Midwestern States (2012; The Ohio State University Press), and the forthcoming The Secret Life of Fungi (Princeton University Press) due out this winter. In 2021 Britt was awarded the Gary Lincoff Award "For Contributions to Amateur Mycology," by the North American Mycological Association-NAMA's most prestigious honor for American mycologists.