2020 Virtual Wild Mushroom Show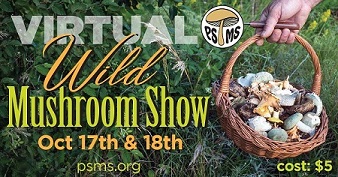 Due to the Covid-19 pandemic the 2020 PSMS Wild Mushroom Show on October 17th and 18th will be a virtual show! A normal, in-person show is just not possible this year, so the mushroom displays, identification, book sales, cultivation, vendors, and other activities needing close interaction will not take place. However, we will still have the opportunity to share our knowledge and joys of mushrooms and the fungal kingdom virtually as we host lectures and activity videos online. We plan to have live, virtual lectures on both dates, as well as on-demand activity videos. Our speakers will include Daniel Winkler, Danny Miller, and Noah Siegel, brought to you by the magic of Zoom. In addition to lectures, we will offer pre-recorded on-demand videos for many of the popular activities we normally offer at the show, including a dyeing video, a cooking demonstration, a typical day surveying and identifying the mushrooms of Bridle Trails State Park, and a cultivation video, to name a few.
We will have more information about this event available at the beginning of October when our tickets go on sale!
Thanks for sticking with PSMS over this strange year. We can't wait to have you join the virtual show in October!
2020 PSMS Annual Wild Mushroom Show
Dates
Saturday October 17th: 8am - 5pm
Sunday October 18th: 8am - 5pm
Location
Virtual. Links to be provided the day before the show to registrants.
Admission fees
All registrants $5 Tickets will go on sale at the beginning of October. , Members can access this event for free.
Registration & Purchase Tickets
Speaker Schedule
Saturday October 17
1:00 PM Daniel Winkler - Choice Edible Mushrooms of the Pacific Northwest
This is one of Daniel's most popular presentations that has packed lecture halls in recent years. He'll review some of the choice (and not-so-choice) edible mushrooms in our region, show photos of some unusually beautiful specimens and present toxic and poisonous species to look out for when you're on a hunt.
3:00 PM Alana McGee - Growing and Harvesting Native and European Truffles in the Pacific Northwest.
Alana will review what kinds of truffles grow in our region, update the progress of the local truffle industry and describe what is essential to successfully train dogs to find those truffles.
Sunday October 18 1:00 PM Noah Siegel - Exploring the Unknown: Cryptic Mushroom Diversity in your Back Yard.

Noah lives in Massachusetts, but is a frequent visitor to our region. His new talk explores the extremely diverse mycoflora of the PNW with over 4,000 species documented. Modern taxonomic tools have shown that this is just the tip of the iceberg. His talk will highlight some of the recent discoveries and how you can help move mycology forward!

3:00 PM Danny Miller - "Families" of Mushrooms in the Pacific Northwest: Solving Mysteries with DNA.

This is also a new talk for Danny, an enthusiastic citizen-scientist, who has been very interested in how DNA analysis helps to explain how some fungal families can more easily be differentiated and how DNA has been used to confirm suspicions we had about interesting microscopic characteristics.
Speaker Bios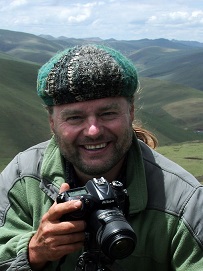 Daniel Winkler is the author of field guides to Edible Mushrooms of the Pacific Northwest and California, Amazon Mushrooms and brand a new "Field guide to Medicinal Mushrooms of North America with Robert Rogers". He grew up collecting and eating wild mushrooms in the Alps and has been foraging for over 20 years in the PNW and beyond, sharing his enthusiasm as a mushroom educator and guide and as PSMS vice-president. In his presentations he is combining his stunning photography with an often funny blend of entertaining stories and scientific information; he likes to refer to as "edutainment". Having been in love with mushrooms since early childhood Daniel managed to bend his career as an ecologist and geographer focused on High Asia towards researching rural Tibet's enormous fungal economy. His Cordyceps research has been featured in The Economist, National Geographic, New York Times, Washington Post, NPR, BBC World Service etc. In the last decade Daniel started exploring neotropical fungi. With his travel agency MushRoaming, Daniel is organizing mushroom focused eco-adventures to Tibet, Bhutan, China, the Amazon, Colombia, the Austrian Alps and the Pacific Northwest since 2007 www.mushroaming.com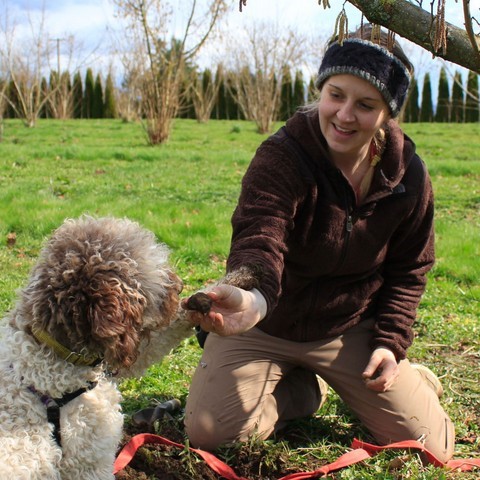 Alana McGee, CPDT-KA, has over ten years of experience training and educating humans and canines with reward-based systems about early socialization, development during critical periods, and canine scent detection, specifically regarding truffles. She is one of only a handful of proven professional truffle dog handlers in all of North America who harvests native truffles as well as works on European-style plantations or truffieres.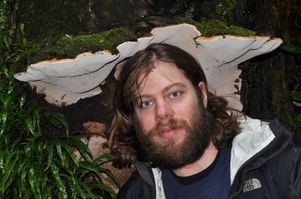 Noah Siegel's field mycology skills are extensive – he has spent over two decades seeking, photographing, identifying, and furthering his knowledge about all aspects of macrofungi. He has hunted for mushrooms throughout the United States and Canada, as well as on multiple expeditions to New Zealand and Australia. He is one of the premier mushroom photographers in the nation, having won numerous awards from the North American Mycological Association (NAMA) photography contest. His technique and attention to detail are unrivaled, arising from a philosophy of maximizing utility for identification purposes while maintaining a high degree of aesthetic appeal. His photographs have appeared on the covers and have been featured in articles of multiple issues of FUNGI Magazine and Mushroom the Journal, the primary mushroom enthusiast magazines in the United States, numerous mushroom books, as well as many club publications. He just finished, along with Christian Schwarz, Mushrooms of the Redwood Coast, a comprehensive guide for the northern California coast. Noah travels and lectures extensively across America, following the mushrooms from coast to coast, and everywhere in between.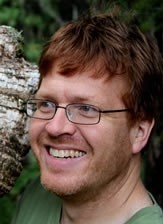 Danny Miller first got interested in mushrooms in 2007 after seeing strange colorful creatures in the forest all the time while hiking and skiing off trail, and finally decided he had to find out what they were. The more he learned, the more interesting they seemed, and it just hasn't stopped. Danny is the Education Chair for the Puget Sound Mycological Society in Seattle, helping to design and teach the curriculum for the club's mycology classes. He is also the club Librarian, ID Committee coordinator and emergency poisoning point person for King County Washington Poison Control. Danny also belongs to the PNW Key Council, a group of amateur and professional mycologists and is a co-author of MatchMaker with Ian Gibson, the free PNW mushroom ID program for the PC and MAC. As a true citizen-scientist he has a big interest in taxonomy and figuring out where all of the mushrooms fit into the fungal tree of life.